Debt Consolidation Loans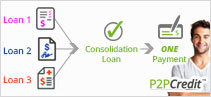 Borrow up to $40,000
One Monthly Payment
Fast & Easy Application

Do you wish to consolidate all of your debt into one loan with a lower interest rate? Get a debt consolidation loan through P2P Credit and you'll receive fair interest rates and flexibility to pay off all of your debts - even if you have bad credit. Consolidating your credit cards, auto loan(s), and other bills into one fixed rate personal loan relieves the confusion of bill clutter - envelopes piling up on your table, bill collectors calling, and remembering multiple 'Due By' dates.
Are you paying more toward your loan's interest than the actual principal? You should consider for a debt consolidation loan. Use our debt consolidation calculator to estimate payments.
P2P credit consolidation loans may reduce your interest rates - and help kickstart your debt free future.
Consolidate Debt
P2P Credit makes applying for a debt consolidation loan hassle free. Simply click apply, select your estimated credit score, and provide some basic information about your financial situation.